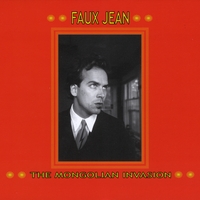 "The Mongolian Invasion" is an new album of four-track solo recordings made by Matty Schindler of Faux Jean between 1997 and 2007.  It's now available at Treehouse Records (26th and Lyndale in Minneapolis) or at CD Baby.com.
Schindler explains the sudden emergence of these old recordings this way:
"As I was preparing to contemplate a move last year, I came across a big box of largely unmarked cassette tapes. These were songwriting tapes going back a decade (1997 to 2007) and most of them only had a month or year listed on the sticker. I decided that I would listen to all of these tapes and write down what existed on each tape before I had to move. This was no mean feat. I drank plenty of champagne and set myself to the task."
Mike Wisti helped with the meticulous transfer from cassette to CD which is now packaged prettily in digipak (cover shown at left.)
Schindler will celebrate the album's release with a show at the Hexagon Bar on Saturday November 29th along with John Swardson, Rebel Yellow, and The Parlour Suite. The show is 21+ and free.
Preview some of the newly released songs at www.myspace.com/fauxjean. Schindler has also posted a full track listing with notes on the band's MySpace blog here.