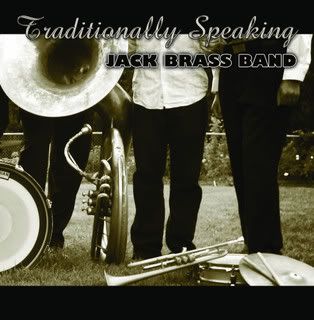 Jack Brass Band releases a brand new CD called "Traditionally Speaking" on Friday, February 22nd at the Varsity. If you've been to any of their shows, you realize what fun they are - you are in for a real brass band, New Orleans style, and my guess is you won't keep these guys on the stage.


HowWasTheShow has a pair of tickets to give away to a lucky winner, and all you have to do to enter is send an email to editor[at]howwastheshow.com with Jack Brass Band as the subject and we'll announce and notify the winner on Thursday in our forum right here.

More details below:
Quote:
What: Jack Brass Band CD release show
When: Friday, February 22, 9:00 PM
Where: Varsity Theater (http://www.varsitytheater.org/) - 1308 4th Street SE, Minneapolis, MN 55414 - 612-604-0222
Price: $7 (Ages 21+)
Opener: Gold Standard


Jack Brass Band (http://www.jackbrassband.com) has reason to celebrate. Not only is Mardi Gras celebrated in February this year - but the band's third album, "Traditionally Speaking" (http://cdbaby.com/cd/jackbrassband3) is now available and they will be hosting a CD release party on Friday, February 22 at the Varsity Theater in Minneapolis.

"Traditionally Speaking" is an album that features more of the roots of New Orleans style brass bands - including renditions of such popular tunes as "Just a Closer Walk With Thee" and "Bourbon Street Parade". The Jack Brass Band is gaining a reputation, both locally as well as in New Orleans and abroad, as an ensemble that sounds as if they've been living in New Orleans for years. High praise has been laid on this ensemble from heavy-hitting bands such as the Dirty Dozen Brass Band, Rebirth Brass Band, Treme Brass Band - and even Preservation Hall Jazz Band. In fact, the liner notes on this CD were penned by Ben Jaffe, the director of Preservation Hall. Here's what Jaffe says of this recording,

"Not only do they emulate their teachers (the masters of New Orleans Music) with exacting precision, they also leave their own distinctive imprint on a musical style that is now theirs."

In addition to the traditional and ageless material the band also covers material by Fats Domino ("I'm Walkin'"), Ray Charles ("I Got a Woman"), and even Hugh Masekela ("Grazin' in the Grass") on this album.

"We felt the need to put out a CD that featured some older brass band repertoire," said Mike Olander, leader of the band. He went on to say that a lot of traditional jazz has roots in the brass band genre, but many people haven't heard the rhythms and feel associated with the brass bands, featuring a sousaphone (tuba) and two drummers, versus a string bass and a drumset.

The Jack Brass Band has appeared at festivals, clubs and parades locally, as well as in New Orleans, Chicago, Iowa, Illinois, and Wisconsin. Outside the United States, they have also been featured artists at Jazz Winnipeg, and Brass Durham International Festival in England.