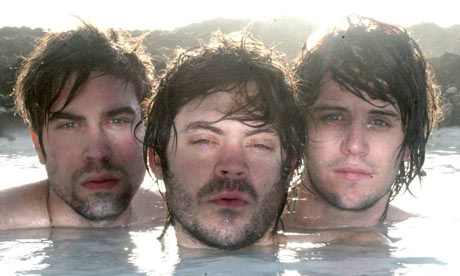 "England's in trouble," the band joked on their MySpace when they announced the recent press in the UK publication The Guardian. (Read the article from Friday's paper here.)
England has good taste is more like it.  
Solid Gold
's album
Bodies of Water
clocked in at #1 on my Top 10 albums released in Minnesota in 2008.  (My picks and others will be published in the
Star Tribune
critics roundups within the next week.)
The Guardian article
laments the band's name saying that few bands whose names suggest success ever actually see it - they cite 
Big Star
, but forget Minnesota's own 
Har Mar.
"We're not sure what the market is these days for the sort of sorrowful techno that Solid Gold purvey," they say, "but it sure is a lovely sound."
I was very excited last month when I heard Solid Gold played on
XFM.co.uk,
 a radio startion that reaches a good chunk of the UK over the airwaves and that remains my favorite radio station in the world on the internet (Yes, even before
89.3 "The Current."
)  The only Minnesota artists I have head on XFM over the past 5 years or so are
The Hold Steady
,
Har Mar Superstar
and
Tapes 'n Tapes
.  So hearing Solid Gold's red-hot single "Get Over It" was quite a thrill.
My prediction is you'll be hearing more and more about this Minneapolis band in 2009.  I've actually gone out on a limb to say I'm betting they may be the next local band you'll see on Late Night with
David Letterman
.  Give it six more months.