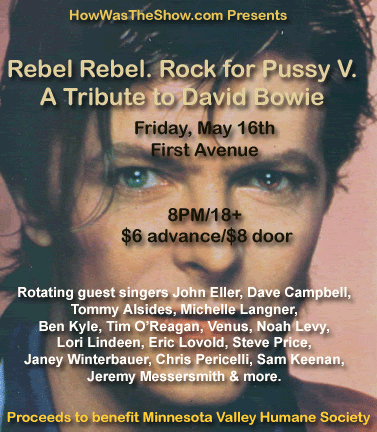 HowWasTheShow loves David Bowie. HowWasTheshow loves Mary Lucia, and of course HowWasTheShow loves Pussy.

It's that time of year again, folks. Time to mark your calendars with a spray of urine for… REBEL REBEL - ROCK FOR PUSSY V - A musical Tribute to David Bowie with all proceeds to benefit Minnesota Valley Humane Society.

Friday May 16 2008
First Avenue Main Room
Tickets: $6 advance, $8 at door.
Doors 8 pm, 18+

Rotating guest singers: John Eller, Dave Campbell, Tommy Alsides, Michelle Langner, Ben Kyle, Tim O'Reagan, Venus, Noah Levy Laurie Lindeen, Eric Lovold, Steve Price, Janey Winterbauer, Chris Pericelli, Sam Keenan, Jeremy Messersmith and more!

Hosted by "your friend and mine" (TM) , Mary Lucia.

Revisit old Rock For Pussy shows:

Rock For Pussy II (4/4/2005)
Rock For Pussy III (4/29/2006)

Join the HowWasTheShow Facebook group and RSVP here.